Peek Inside 2NDGEAR's Technology and Refurbishment Center
10,000 desktops, laptops, tablets, monitors, servers, and more pass through the technology center monthly for inspection, refurbishing, and shipment – ensuring the very best products and services for schools and businesses across the country.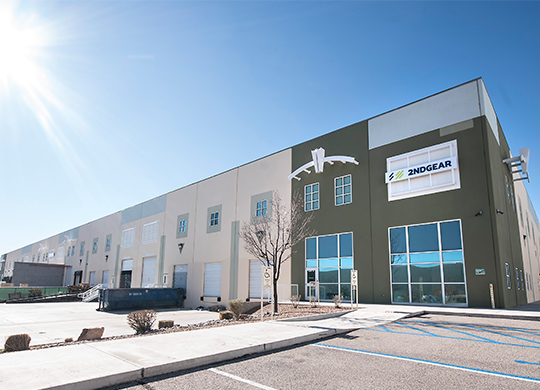 2NDGEAR began refurbishing and providing pre-owned technology products more than 30 years ago in a 400 square foot office to support the equipment needs of local area schools and businesses. We've been growing ever since.
During last summer, we announced the relocation, expansion, and upgrade of our technology refurbishment center in Albuquerque, New Mexico. We're now all moved in, up and running, and fully operational. The shiny new equipment return and refurbishing facility is already proving to be an amazing upgrade for the business and our customers.
It's impressive even to our high standards, so we wanted to shine a spotlight on it and share a peek inside the new Tech Center.
It's full service.
The facility is the hub for our customers' equipment from start to finish:

Equipment return processing
Imaging
Data destruction
High volume shipping
It's big.
37,000 square feet, with a spacious 23-foot high roof, which provides 20% more storage room and capacity for our customers' equipment
14 dock doors create a highly productive and efficient flow for the cross-dock equipment process
We're on track to double our business in the next five years and this technology center will accommodate the increasing capacity needs.
It's eco-friendly.
Where other businesses may be quick to dispose of older equipment like laptops, tablets, etc. we are proud to extend the life of useful technology through the refurbishing process for the benefit of our customers and our planet.
It's a work of art (literally).
Local artist Randy Barton created a 20-foot high custom mural that stretches across the main wall within the warehouse that serves as an inspiration for our team.
The portrait of a local Navaho girl painted beside the silhouette of downtown Albuquerque creates a direct connection between the community and the company with imagery of electrical computer circuits.

As the central hub for all off-lease and refurbished computer equipment – including returns, inspections, eco-disposal, and shipments to customers – 120,000 laptops, tablets, desktops, and monitors pass through our new tech center each year. Plus, one friendly resident roadrunner who passes regularly through our parking lot. We like to think he appreciates the swiftness of our operations.
The new tech center is the heart of our equipment operation, and we're proud to provide the best service and right technology for schools and businesses across the country. We've always focused on providing products and services that we can stand behind, and doing what's right for our customer and our world means that together, we're all doing something good for the future.
If you have any questions about our new Technology Center, feel free to leave a comment below or email us at info@2NDGEAR.com. We're also always looking to add new members to the 2NDGEAR family. If you're interested in job opportunities, check out our Careers page at https://www.2ndgear.com/careers/.