Refurbished Servers: Review of the Dell PowerEdge R730xd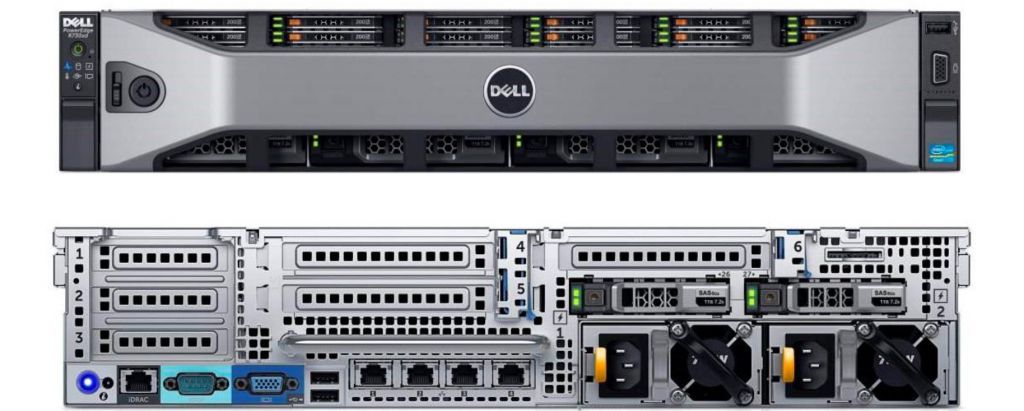 Refurbished servers provide access to powerful CPU, memory, power, and storage, cost-effectively. While the new generations of servers come with incremental updates and tweaks, their refurbished counterparts perform on par at the highest level.
If you take an in-depth look at commodity servers in the marketplace, you'll quickly see that most often, there's no real innovation making its way into these systems.
That's why refurbished servers like Dell's thirteenth generation PowerEdge R730xd two-socket servers make an attractive addition to your data center. When enterprises take the refurbished route, they purchase machines that are in excellent condition without sacrificing quality, performance, and reliability.
The decision to buy refurbished hardware most often comes down to IT budgets and the expected return on investment. Most often, these savings are significant.
A fully configured refurbished server, for example, can range from $3000 to $5000, depending on the specifications. A new, fully configured server can run into the tens of thousands of dollars.
However, costs, although significant, isn't the only advantage. A reconditioned Dell PowerEdge R730xd server also comes with the following benefits.
Availability of Refurbished Servers
As used hardware has been in the marketplace for quite some time, spare parts and more are freely available. This means that you can get access to the equipment you need within a day or two.
When used servers are returned to 2NDGEAR's Technology and Refurbishment Center, they are often at the end of a lease. Once on-premise, these machines are then thoroughly inspected, restored, and tested by our technicians.
Whether you need it for test environments or virtualization, the Dell PowerEdge R730xd, for example, is ready for rapid deployment. If you need to replace a part during the lifecycle of the server, you can bet that it's in stock.
High-Performance
Companies have service level agreements with OEMs that update servers years before the end of its productive lifespan. In this scenario, servers are replaced long before needed (only) to achieve the same level of performance.
When a third-party service provider (like 2NDGEAR) inspects each component closely and refurbishes it, you'll get a high performance and reliable solution that works like a brand-new server (that costs five to ten times more!).
These second-hand servers are configured and updated with the necessary memory, processors, drives, and optimized to compete with the best in the marketplace. In fact, every refurbished product we sell is carefully examined, cleaned, tested, and brought back to original factory specifications.
Integrating with Existing Servers/Scalability
Compared to the competition, robust servers like the refurbished Dell PowerEdge R730xd are at the top end of the spectrum. These machines enable seamless integration with existing servers and seamless scalability.
For example, with up to two 3rd or 4th generation  Intel® Xeon® E5-2600 (up to 22 cores per processor) and DDR4 memory components available in the marketplace, you can pack 88 processing threads and 1.5TB of memory into a single server.
The system's PERC RAID controllers fully support Microsoft's Storage Spaces. This means that it's also possible to configure individual drives as non-RAID devices.
It's Good for the Planet
If the above isn't enough, consider this – when you buy refurbished systems, you substantially reduce the amount of electronic waste accumulated around the planet.
In this scenario, instead of polluting, you save natural raw materials by reusing what's already available. This approach complements corporate environmental sustainability programs.
The Dell PowerEdge R730xd is perfect for the following use cases:
Accelerate Workloads
PowerEdge R730xd helps IT departments maximize server-based storage performance and flexibility. This is achieved through an optimal balance of cost, performance, and storage utilization.
An optional in-server hybrid storage configuration supports tiering and capacity for up to 28 drives in a 2S/2U system (which includes up to 24×2.5″ SATA SSDs).
IT deployments are accelerated through streamlined infrastructure provisioning. This approach helps simplify IT service delivery through a unified console and highly intuitive user interface of Active System Manager.
Seamlessly Support a Large Number of Mailboxes
The reconditioned Dell PowerEdge R730xd supports a large number of mailboxes on a single system. Furthermore, you could use the same configuration, like the one below for a high-end Microsoft SharePoint server.
Dell PowerEdge R730xd 2U – 24 Bay 2.5"
Dell Rear FlexBay 2 x 2.5"
2 x Intel Xeon 12C E5-2680v3 2.5GHz CPUs
192GB (12x16G) DDR4 Memory
2 x 300G MLC SSD 2.5" in Dell Trays
24 x 1TB NL-SAS 7.2K 2.5" HDD in Dell Trays
Dell Perc H730 w/ 1G Cache
Integrated Quad Port 1G NIC
Add-on Quad Port 1G NIC
Redundant Power Supplies
Dell R730 Bezel
Dell R730 4 Post Square Hole Rail Kit
Software-Defined Storage
Another great advantage is software-defined storage based on products such as Ceph for Openstack, Microsoft Storage Spaces, and VMware Virtual SAN.
Total available storage is expanded with the addition of a Dell Storage MD1400 direct-attached storage enclosure. This type of system is ideal for engaging in security surveillance and more. You can easily monitor and manage it from anywhere in real-time.
Here's a popular refurbished server configuration used for scenarios like NAS storage and video surveillance DVR:

Dell PowerEdge R730xd 2U – 12 Bay 3.5"
Dell FlexBay 2 x 2.5" Kit
2 x Intel Xeon 12C E5-2680v3 2.5GHz CPU
256GB (16x16G) DDR4 Memory
2 x 300G MLC SSD 2.5" HDD
12 x 4TB NL-SAS 7.2K RPM 3.5" HDD in Dell Trays
Dell Perc H730 w/ 1G Cache
Integrated Quad Port 1G NIC
Redundant Power Supplies
Dell R730 Bezel
Dell R730 4 Post Square Hole Rail Kit
Key Takeaways
A new Dell PowerEdge R740xd Rack Server, for example, supports surveillance systems efficiently and costs anywhere between nine to twenty thousand dollars. But a refurbished Dell PowerEdge R730xd delivers the same at a fraction of the cost.
If you're thinking about adding refurbished servers to your data center, the trick is making sure the product is genuinely refurbished. This means that you must do your homework to ensure that it's not merely cleaned up, repackaged, and repriced.
Make sure to look over the technical specifications and features like the following:
System Overview
Operating system support
Performance
Processor
Memory
Storage
Raid
By partnering with an established services provider like 2NDGEAR, enterprises mitigate risk and access real value.
When you purchase refurbished systems from 2NDGEAR, you'll also benefit from a three-year warranty and extended maintenance plan. Most often, our extended warranty and maintenance plans offer a lower hardware maintenance cost than those provided by the manufacturer.
Our refurbished servers can also be custom-built and preconfigured to your unique needs.
For more information on the refurbished servers including the Dell PowerEdge R730xd server, contact us at info@2NDGEAR.com or click here.