Refurbished vs. New: Dell Latitude 14 7000 Series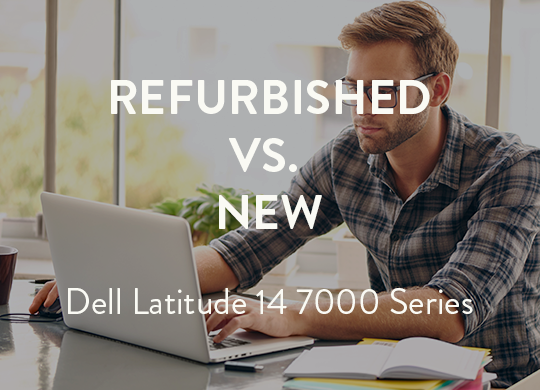 The misconception that refurbished or off-lease computers are leftover scraps being pieced together to make a barely functioning machine are long gone.
More people now understand what refurbished computers are and the benefits of using them. The next question that usually comes up is 'how does a refurbished computer compare to a new computer?'
To help answer this question, we're taking a dive into the Dell Latitude 14 7000 Series. We will compare a refurbished Dell Latitude E7440 laptop to a new Dell Latitude E7470 laptop. We will look at Dimensions and Weight, Display, Battery, CPU, Memory, Storage as well as Price. By using the same specifications and features below, you can compare other refurbished computers against what's new in the market to find exactly what you're looking for every time. Also, continue to follow our blog as we explore and compare other models. If you're curious about specific models, send us your suggestions in the comments area below.

Dimensions and Weight
Best used for work and school, the Latitude 14 7000 Series are powerful and durable while remaining light and easy to carry to and from. Both laptops come in under 4 lbs. with the E7440 starting at 3.60 lbs. and the E7470 starting at 3.16 lbs.
Dimensions are hard to compare as both models are almost identical in size.
Latitude E7440 (H x W x D) – 0.80" x 13.20" x 9.10"
Latitude E7470 (H x W x D) – 0.76" x 13.19" x 9.13"
Display
Both 14" laptops feature HD anti-glare standard resolution of 1366 x 768 and come with touch display optional models.
Battery
Both E7440 and E7470 run on 3-cell lithium batteries and can be swapped out with 4-cell lithium batteries for those in need of more mobile power.
CPU, Memory, and Storage
This is what you'll really want to pay attention to. Depending on the software and programs you plan to run, aesthetics can mean nothing if it's performance you need.
2NDGEAR's pre-configured E7440 i7 model has an Intel i7-4600U (up to 3.30 GHz) processor, with 8GB RAM, and 256GB solid state drive.
Dell's New E7470 has an Intel Core i7-6600U (up to 3.40 GHz) processor, with 8GB RAM, and 128GB solid state drive.
According to the CPUBoss review, The i7-6600U scores an overall 8.8 out of 10, while the i7-4600U scores an 8.5 overall.
Price
So how much more performance per dollar do you really get then?
2NDGEAR offers the pre-configured E7440 i7 model at $679 with Windows 10 Professional included.
A new E7470 with the listed configurations above and includes Windows 10 comes in at $1399.
It's obvious the refurbished laptop outshines the new laptop in price with a difference/savings of $720.
*Pricing shown above were as indicated by its sources during September 2017 and are to be used for example purposes only. The pricing does not apply to price matching, price comparisons, and/or any sales promotions.
Final Conclusion
We would call it a close tie based on the similar specs and features. On both laptops, you can expect solid performing machines, ready to handle multi-tasking programs, and travel-friendly for those daily commutes.
Using price as the tie breaker, it's easy to see the refurbished Dell Latitude E7440 steals the show. Coming in at less than half the price of its new competitor, it makes it easy to see how the refurbished option wins.
And if it's quality you're questioning, the refurbished laptop is backed by a 3-year warranty – same warranty as the new laptop.
We hope this comparison breakdown helps you determine whether it's refurbished or new that you should purchase. If you're curious to try refurbished or off-lease computers in your school or organization, contact us for more information about our 30-Day Demo Program.