Refurbished vs. New: Dell OptiPlex Small Form Factors
We're back at it again, looking at how refurbished and off-lease computer equipment compares to new.
This time we're switching over to desktops and looking at how a refurbished Dell OptiPlex 9020 Small Form Factor compares to a new Dell OptiPlex 7040 Small Form Factor.
Dimensions and Weight 
Dell's line of OptiPlex desktops are made for the demanding work environments requiring solid and stable performance. Powerful as well, the small form factors are made compact to save desk space whether it's in an office or in the classroom.
Both small form factor 9020 and 7040 have similar dimensions although the 7040 is slightly thinner in width:
Dell OptiPlex 9020 SFF (H x W x D): 11.4" x 12.3" x 3.7"
Dell OptiPlex 7040 SFF (H x W x D): 11.4" x 11.5" x 3.6"
Weight isn't an issue for either models as well, especially if deploying and/or managing a large fleet of units. The 9020 comes in at a minimum of 13.2 lbs. and the 7040 weighs a minimum of 10.7 lbs.
Ports and Features
When it comes to maintaining productivity for the user, both OptiPlex models don't fall short with available ports – especially for their compact sizes.
|   Dell OptiPlex 9020 SFF |   Dell OptiPlex 7040 SFF |
| --- | --- |
|   4 x USB 3.0 |   6 x USB 3.0 |
|   6 x USB 2.0 |   4 x USB 2.0 |
|   2 x DisplayPort |   2 x DisplayPort |
|   1 x VGA |   1 x HDMI |
|   2 x PS/2 |   2 x PS/2 |
|   1 x Serial |   1 x Serial |
|   1 x RJ-45 |   1 x RJ-45 |
The two models are nearly identical with 10 USB ports each and both also support 3 monitors natively. While the 9020 lacks an HDMI port and the 7040 forgoes the VGA for an HDMI, converting either input to the other is as easy as using an adapter.
CPU, Memory, Storage, and Price
2NDGEAR's refurbished 9020 SFF model  with an Intel Core i5-4570 3.2GHz processor, 8GB memory, 500GB hard drive, and Windows 10 Professional comes in at $470.
For a new Dell 7040 SFF with an Intel Core i5-6500 3.2GHz processor, 8GB memory, 500GB hard drive, and Windows 10 Professional, multiple vendors online offer the model around $900.
According to the CPU Boss review, the 9020's i5-4570 scores a hairline higher at 8.1 out 10 compared to the 7040's i5-6500 with a score of 8.0 out of 10.
*Pricing shown above were as indicated by its sources during October 2017 and are to be used for example purposes only. The pricing does not apply to price matching, price comparisons, and/or any sales promotions.
Final Conclusion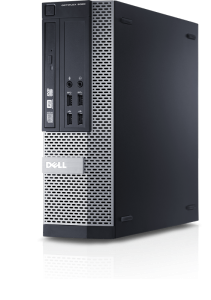 Once again, we've come across a situation where the refurbished equipment comes to a close tie with the new equipment. Both similar in all aspects of size, power, and performance, it would be hard to choose a winner.
When it comes to price however, the refurbished Dell 9020 SFF takes the prize, coming in at $430 less than its new competitor – nearly half the price!
To seal the deal, the refurbished model comes with a 3-year advance replacement warranty from 2NDGEAR while the new 7040 comes with only a 1-year limited manufacturer warranty.
Purchase the prized winner here at our 2NDGEAR store. If you're new to refurbished and off-lease computers and want to try them out in your school or organization, contact us for more information about our 30-Day Demo Program.