2NDGEAR Provides Schools Thousands of New Chromebooks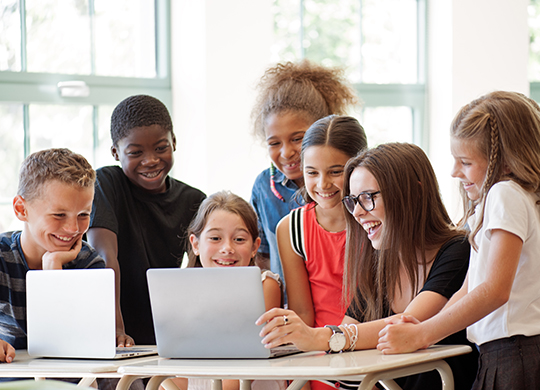 As school districts across the nation continue to recognize the importance of upgrading student technology, Chromebooks have become an overwhelmingly popular choice thanks to their ease of use, functionality, and affordability.
Recently four districts in Northern California, Texas, and Pennsylvania phased out a mix of older equipment and moved to Chromebook technology as the new standard for their students. To accomplish this as efficiently and affordably as possible, the districts turned to 2NDGEAR, a leading supplier of new, recertified and refurbished IT equipment, software, and services.
"Technology choices are extremely critical for school districts as students and faculty require reliable and current equipment that will improve the learning process and prepare students for the future," said Leroy Wyman, General Manager of 2NDGEAR. "We understand that budgets are always tight and have developed vendor partnerships that allow us to deliver extremely affordable options and make it possible for schools like these to achieve their technology goals on time and in many cases under budget."
The Technology
Across the four districts, 2NDGEAR delivered more than 4,000 new Lenovo and Acer Chromebooks to support the ongoing commitment to technology in the classroom. These units replaced older end-of-life technology and helped the districts streamline and standardize across their middle school and elementary campuses. Depending on needs, districts took advantage of 2NDGEAR's licensing and warranty offerings. 2NDGEAR's 3-year warranty on new Chromebooks far exceeds the industry standard one-year agreement providing added assurance, support, and value.
The Service and Support
In addition to providing the new technology, districts that needed extra support tapped 2NDGEAR for its White Glove Service for fast, easy roll out of the Chromebooks. White Glove Service provides easy out of the box deployment, as Chromebooks arrive pre-configured and ready for immediate student use. Centralized tracking, management, and remote control capability are additional valuable time-saving features. And in cases where a district already has a relationship with an integrator, 2NDGEAR partners up with that organization and the district to deliver the required technology and level of support, for a seamless roll out.
The Value
By partnering with 2NDGEAR, school districts can affordably obtain the right technology and enough devices for staff and students. In Northern California for example, 2NDGEAR helped the district save more than $100,000 while also making it simple to roll out the new standardized technology to its students. And in Texas, 2NDGEAR saved another district more than $80 per unit over other providers with its ready-to-use, brand new technology for all elementary school students. By working with 2NDGEAR, school districts benefit greatly with outstanding service and fast, efficient delivery of top quality technology with significant cost savings and added value.
2NDGEAR, a subsidiary of Insight Investments, LLC, is a leading supplier of new, recertified and refurbished IT equipment with partnerships including Dell, HP, Lenovo, Microsoft, Adobe and more. Offering IT implementation and support services including data destruction, imaging, deployment, office technology relocation, asset liquidation and warehouse outsourcing, 2NDGEAR supports the entire IT lifecycle. An established company respected for its uncommon dedication to service, 2NDGEAR has served thousands of businesses and educational institutions across the U.S. For more information, visit www.2NDGEAR.com