We Have Happy Customers and Our NPS Proves It
At 2NDGEAR, we have always strived to give each and every customer the best customer experience possible. To ensure that this high standard is met, we need to stay accountable and improve whenever possible.
To better understand how we are doing and to get open feedback from our customers, we use the Net Promoter Score® (NPS®), a leading metric for measuring customer loyalty and satisfaction. After surveying our customers over a full year, quarter over quarter, our NPS results showed that our focus hasn't been lost over our 30 years of doing business.
Our customers showed to be extremely satisfied and gave us a total Net Promoter Score of 75, placing our business in the Excellent category.

Why We Use the Net Promoter
It's effective and it's simple. Since 2004, when the Net Promoter was introduced to the business world, companies across the globe have adopted the metric for its proven methodology in measuring customer experience.
To attain an NPS score, customers are surveyed with one key question asking:
"How likely is it that you would recommend [Organization] to a friend or colleague?"
The respondents answer by ranking on a scale of 0 to 10, 0 being "Not at all likely" and 10 being "Extremely likely".
Respondents are then divided into three segments depending on their answers:
Detractors: Answered between 0 – 6
Passives: Answered between 7 – 8
Promoters: 9 – 10
From there, it's a simple calculation of:
(Number of Promoters — Number of Detractors) / (Number of Respondents) x 100

Our Customers' Experiences
In 2019, we sent surveys out to our customers at the end of each quarter, asking them the key Net Promoter question along with open-ended questions for those that wanted to leave us more details. When we tallied up our total score for the year, we were proud to see that our customers' experiences reflected our values and focus of being a customer-centric business.
With a possibility of scoring -100 to 100, our positive score of 75 indicated that the Promoters far outweighed the Detractors. According to SurveyMonkey's global benchmark, we placed in the top 25 percentile where companies have an NPS of +72 or higher. And when benchmarked against other technology companies, we easily exceeded the average NPS of 38.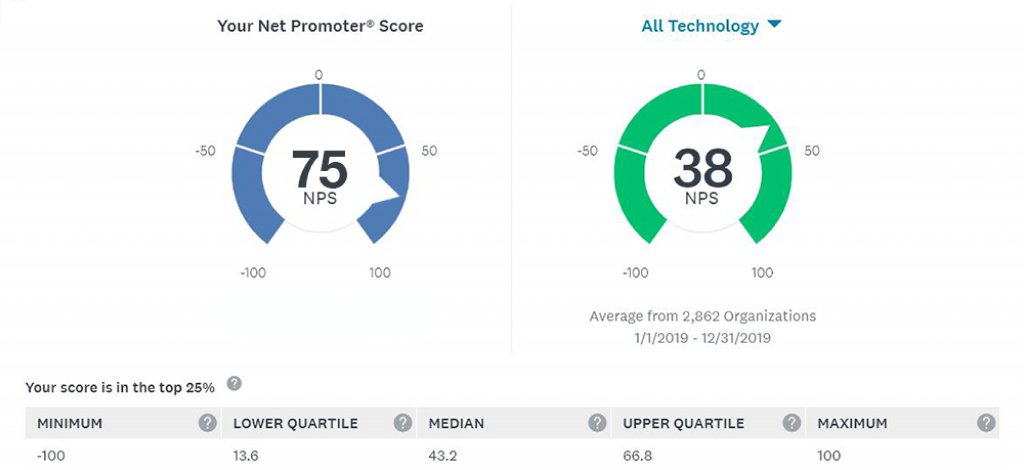 Customer who did leave comments provided additional support of our strong NPS:
"Excellent account manager, very helpful, knowledgeable and friendly."
"Perfect service. Always!"
"Support is always quick and simple, please keep it that way."
"Great service – quick responses. Have been very pleased."
Our customers are our priority and to make sure it remains that way, we must always provide quality service, with quality products.
In a digital era, our continuous success isn't through one-click buys. It's from our 2NDGEAR team members. Whether a customer engages directly with one of our sales representatives or indirectly through one of our computer technicians working on their project, it's all the human touches that contribute to our successful customers' experiences.
We're grateful for the many relationships built over the years with our customers and strive to drive the NPS even higher in the years to come through maintaining and building more partnerships.