Manage Call Center Technology with Device Lifecycle Management
Whether it's operating a contact center or a Business Process Outsourcing (BPO) company, robust call center technology is at the heart of delivering enhanced customer experiences. As a core competency of the business and operations, this technology also dictates the productivity of customer service agents.
Naturally, with the onset of the pandemic last year, remote and mobile working has quickly become the norm. As such, contact centers have had to adapt to ensure business continuity and relevance. However, this created a whole new set of problems for BPOs and call centers that needed solutions.
We will go over the problems these organizations had to face then and now such as: managing already complex daily operations remotely, coming up with logistics for their technology equipment, and on-demand scaling. Along with the problems we will discuss the benefits and solutions a device lifecycle management (DLM) partner can provide.
What Are the Challenges Faced by Contact Centers and BPOs?
Before COVID-19 brought the world to a standstill, most call center operations were managed entirely on-premises. This made it easy to manage call center employees, workstations, agent attrition, and more. However, with the move of customer support staff working from home, BPOs and call centers took on a new dimension of problems never imagined.
Managing Complex Operations and Remote Agents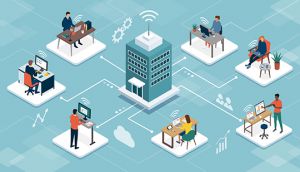 As management and customer service agents worked from home, management of large teams with thousands of employees became incredibly complex. Staff who were all in the same building now communicate and collaborate completely virtually.
In this business environment, call quality is critical, and BPOs and contact centers had to learn how to leverage call center technology to support staff spread across multiple locations remotely. Furthermore, they had to change how they worked and communicated to accommodate the "new normal" of employees working in separate and various locations.
All the while with privacy and security being paramount, BPOs and call centers still must provide their own proprietary hardware and technology to agents, making logistics a massive challenge.
Scaling Operations and Call Center Technology Up or Down on Demand
Remotely managing staff isn't as easy as moving your infrastructure up to the cloud and forgetting about it. To maintain enhanced customer experiences, companies have to provide call center technology that's built to specification.
As staff turnover is high within this sector, it's now increasingly difficult to manage this process. For example, you have to source, set up, deploy, and maintain all the hardware. When the employees leave, you also have to safely retrieve the devices or workstations from hundreds or thousands of locations.
Furthermore, when a new hire comes in, retrieved machines need to be refurbished, set up with your image loaded, and deployed as needed. When they leave, you'll have to go through the motions all over again.
So, what's the solution?
Engage a Device Lifecycle Management Services Provider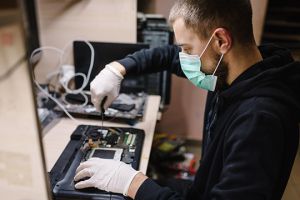 The answer is to partner with an established DLM services provider to support your business. Outsourcing this part of your operation will free staff to focus on what's important—your customers and long-term goals.
For example, at 2NDGEAR, we're experienced in delivering thousands of devices to support large-scale work from home environments. We set up, deploy, manage, maintain, track, and recover assets cost-effectively. As a result, you can focus on your clients and the project at hand instead of worrying about call center technology management and logistics.
When you partner with an experienced DLM services provider, you outsource the following functions:
Configuration Management: the vendor will image and preload laptops and desktops with the necessary software and applications.
Inventory and Asset Management: the vendor handles sourcing, storing, staging, and deploying all agent technology hardware including, laptops, desktops, monitors, and peripherals like keyboards, mice, and headsets.
Logistics Management: the vendor ships bulk agent workstations to national and international sites and individually to remote workers. The vendor also handles reverse logistics.
Workflow Integration: The vendor will help the contact center agent start working as quickly as possible. With unified customer data in a single interface and all communication channels in one place, call center managers are well-equipped to take stock and manage both people and processes effectively.
Service Measurement and Reporting: Your business will benefit from in-depth reporting and service measurements. This approach helps quickly highlight areas that demand improvement and presents opportunities to take action immediately.
5 Key Benefits of Device Lifecycle Management Services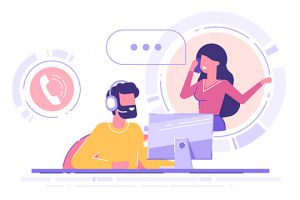 Device Lifecycle Management (DLM) services make life easier for call centers and BPO managers. However, it's important to only commit to a DLM service provider who has a proven track record supporting BPOs and call centers. This is because the nature of the business is different. As such, your DLM partner should be ready to manage high attrition rates effectively. Once a DLM provider is found you should be confident that this new partner brings along with them the following benefits.
5 key benefits of partnering with a DLM provider are as follows:
Combines hardware leasing and end-to-end lifecycle services into a single, per-device, monthly contract.
Automates processes and allows for flexible deployment models.
Includes total asset management, managed services, and a range of technology refresh options.
Environment catered to BPO call center's specific needs.
Ability to scale the number of devices to meet the demands of the business.
As you can see from the above, DLM allows enterprises to focus on their core operations (without worrying about call center technology management). As your DLM partner manages everything from sourcing to configuration to logistics, you can focus on your project while your outsourcing partner handles the rest.
With experience in delivering thousands of end-user devices to BPO call centers for large-scale environments, 2NDGEAR can help source, deploy, manage, track, and recover assets – all while making it easy and affordable.
Contact 2NDGEAR here or email us at info@2NDGEAR.com for more information on how Device Lifecycle Management Services can help your BPO call center.