Reasons Why You Should Buy A Refurbished Desktop or Computer
Why Buy Refurbished Computers and Desktops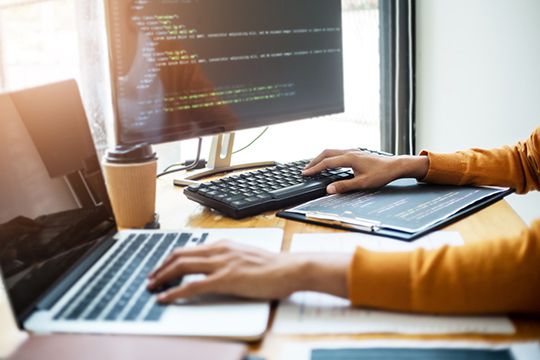 With budget cutting and continuous freezing of departmental spending fast becoming the norm, making the decision to buy a refurbished desktop or other type of computer can be a great way to save money. But, are refurbished computers a smart way to go, or can you just cut corners with purchasing below par machines?
We all know that when it comes to acquiring computer and IT equipment there is an immense pressure to consistently hit two key requirements in each and every transaction. The first being that you must squeeze the absolute most out of every single dollar spent, while secondly, ensuring maximum functionality of all computers bought.
Buying Factory Refurbished Computers Reduces Total Cost
Consistently making every dollar count out of your computer acquisition budget is a difficult level to attain, and it can take time to work out effective purchase strategies to support such results. By taking the decision to buy factory refurb machines, such as a refurbished desktop or Dell laptops or a refurbished Lenovo desktop, you are on the right path to reaching such levels.
One of the most immediate, and visible benefits of purchasing refurbished equipment is that your total cost is going to be much lower than when compared to purchasing a brand new version with similar components. But what about the functionality of refurb computers? Being less expensive, can they really match the performance and functionality of new models?
When looking at our current top 5 selling refurbished desktops, and laptops, you can see that value for money and optimal technology performance really do go hand in hand with refurbished computers, and make our online store one of the best places to buy refurbished computers.
Top 5 with Refurbished HP Desktops, Dell All-In-Ones,  Dell & HP Laptops
As the title suggests, our top 5 current best-selling refurbished desktops and affordable laptops come from Dell and HP. Lenovo will make it into the top 5 with its laptops and desktops time to time.
Dell OptiPlex 7450 All-in-One 23″
The refurbs on this list all offer solutions for different needs, such as the refurbished HP and Dell desktops that can offer versatility and power in the most demanding of business environments. Then there is the light and compact HP EliteBook 840 G3 laptop, which is refurbished and can easily keep up with the most productive of organizations, both in and outside of the office.
Besides the unique solutions that all of these factory refurbished machines individually offer, when you buy any refurbished computer from 2NDGEAR you are going to receive a computer that matches or even exceeds the performance of a comparative brand new model.
Refurbished Desktop Computers That Match and Exceed Performance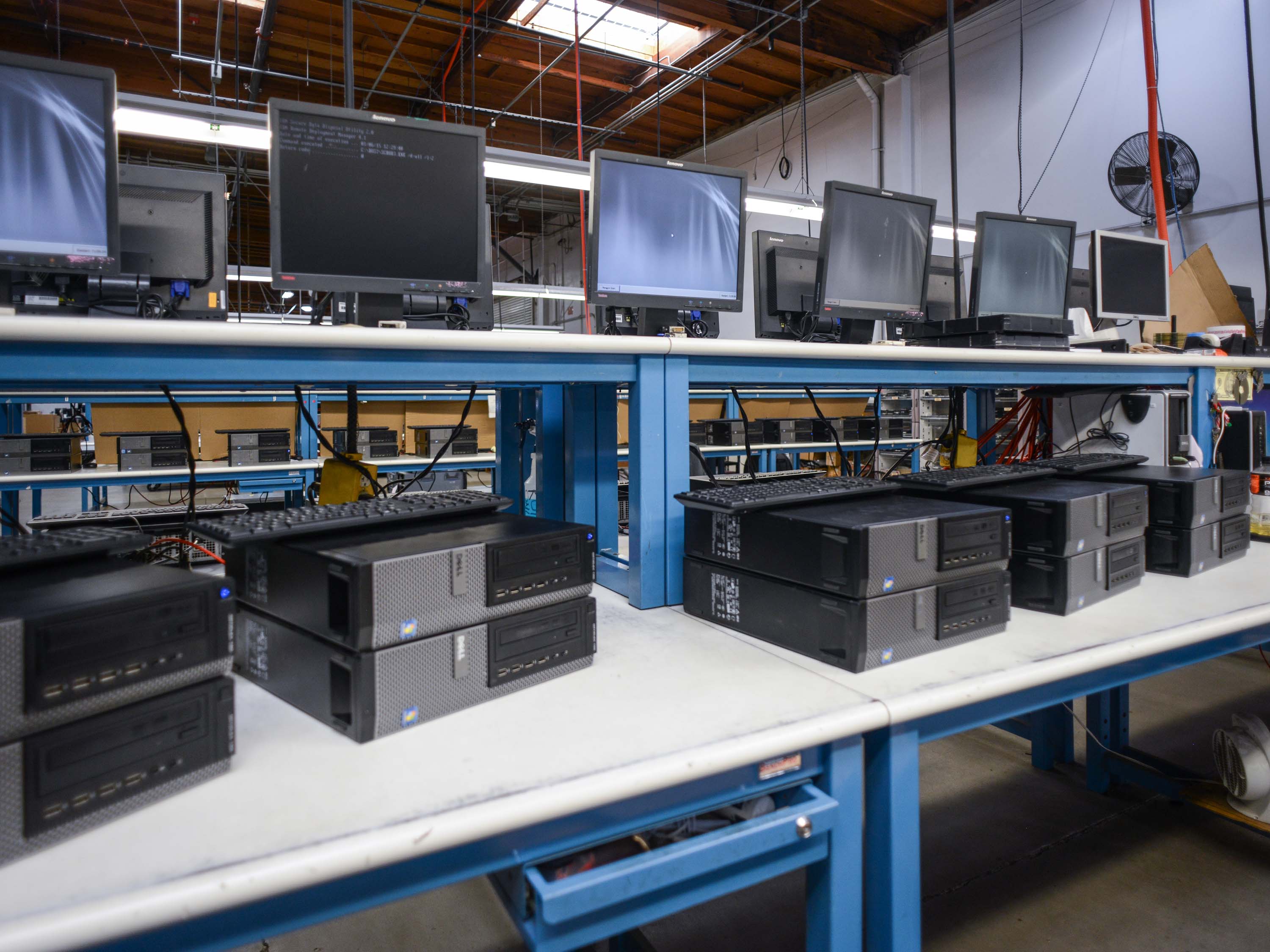 All refurbed computers, regardless of if they are Lenovo, HP, Dell, or even Apple, are machines that have been professionally reconditioned to their original functionality. This means that every laptop, desktop, monitor, or tower that is refurbished must be fixed or installed with new components that can meet the original performance expectations of the machine in question.
This ability to refurbish any computer to its optimal potential is particularly important for the big computer manufacturers, such as Dell, Apple, Microsoft, HP, and Lenovo. With high reputations staked on the performance of their computers, they will only allow specially trained and fully certified refurbishers to work on their machines.
The results of having such high standards speaks for itself when you look at our current top 5 sellers mentioned earlier: Refurbished Dell commercial desktop's, Dell all-in-one computers and Dell laptops, alongside refurbished HP laptops and HP commercial desktops – each one of these factory refurbished machines are a result of our highly skilled technician teams adhering and exceeding all manufacturer set standards.
Warranties Protect Your Investment
It is always imperative to cover yourself when buying a both new and refurbished desktop or computer. There will always be the chance you will need to replace or repair something, even when using preferred and trusted manufacturer refurbishers. With this in mind it's worth taking the time to read, and take into consideration the warranties offered before you buy any refurbished computers.
You can also learn a lot by looking at the specific details of the warranties offered by a computer refurbisher. For example, if they offer comprehensive long term coverage on the refurbished Dell laptops you are interested in, then the chances are that there was a high standard of refurbishing performed on the Dell laptops, and you can buy them with confidence.
2NDGEAR's Refurbishment Process and Off-Lease Computers
All of our refurbished computers, laptops, and other refurb equipment are thoroughly tested by our fully certified technicians who expertly refurbish on-site, at our state of the art Technology Center in Albuquerque, NM.
Many of our factory refurbished computers are off-lease models that have had their original functionality restored, improved upon or set according to manufacturer settings. You can learn all about our full refurb process and off-lease computer acquisitions from the links at the end of this article.
2NDGEAR's Microsoft Partnership
Refurbishing well over 40,000 computers professionally annually, 2NDGEAR has been a Microsoft Authorized Refurbisher (MAR) since 2014. We follow strict guidelines set by Microsoft to ensure our customers receive high-quality refurbished devices installed with genuine Microsoft Windows. As a MAR, we are also able to offer fully licensed Microsoft Windows at a more affordable price to schools and companies, giving students, faculty, and business users access to today's most up-to-date technology.
2NDGEAR's Warranties On Refurbished Computers
As we mentioned above, warranties on a refurbished desktop or other types of computers are not only extremely important but can tell you a lot about your supplier and their machines. Here at 2NDGEAR we stand by our refurbished computers 100% and want you to have 100% confidence not only in the products you buy, but also the company supplying them.
Because of our high standards in certified refurbishing, we can offer some of the best computer warranties available, as standard. This includes a 3-year advanced replacement warranty on most computers you purchase from us. Learn more about our comprehensive warranties, and other support we can offer when you purchase any of our refurbished IT equipment:
https://www.2ndgear.com/warranty-program/
Purchase Our Refurbished IT Equipment And Start Saving
From affordable laptops, Chromebooks, all the way to factory refurbished desktop's and monitors, you can find the IT equipment best suited to your needs on our fast and easy to use online store, which is one of the best places on the internet to buy refurbished computers.
Can't find the exact IT items you are looking for? Contact one of our friendly and experienced team members today and let them help assist you (866) 841-1679
Explore our off-lease sourcing and computer refurbishing processes in more detail, and see why so many organizations rate 2NDGEAR as their preferred factory refurbished computer reseller to do business with.