New or Refurbished Chromebooks? What's Best for the Classroom?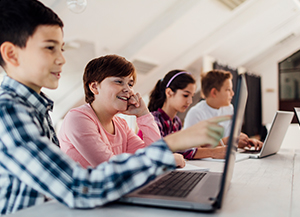 Today, over 30 million students depend on new and refurbished Chromebooks to gain access to a universe of learning opportunities both inside and outside the classroom.
The idea of enhancing teaching and learning experiences with Google's suite of productivity tools was first discussed way back in 2006. Thirteen years later, G Suite for Education has proven to be a highly affordable and engaging academic solution that's used by over 80 million educators and students around the world. Another 40 million leverage Google Classroom to stay organized and engage in creative teaching and collaborative learning.
The exponential growth of Chromebooks across school districts can be attributed to the following:
Affordability
Highly engaging 1:1 learning opportunities
Highly user-friendly
Seamless access to G Suite for Education and Google Classroom apps
Simplified device management (than Windows-based laptops)
School districts are notorious for their highly restrictive budgets, so Chromebooks have proven to be a game-changer. With both new and refurbished Chromebooks, hands-on educators and their students have seamless access to all the tools they need to teach, learn, and engage in a safe and organized ecosystem.
The cost-effective support that comes with Chromebook is also an excellent option for often frustrated and underfunded school districts. So it's no surprise that Chromebooks are the leading choice for 1:1 programs over Apple's iPad.
When Buying Chromebooks for Education, Is It Better to Buy Refurbished or New?
Whether you're buying a refurbished Chromebook or a brand-new one, you're going to be able to take advantage of cutting-edge apps, long battery life (up to of 11 hours and 30 minutes), and unmatched performance in a small, compact, and affordable package.
The only drawback is the fact that Chromebooks need a Wi-Fi connection to operate (and that's what makes them cheap). However, with the internet so prevalent these days, especially in schools, this is not going to be an issue.
As assignments and papers can be downloaded for viewing offline, students can also work on projects while when they are disconnected.
However, whether you go for new or refurbished Chromebooks, there are some features and functions that must be considered before making a purchase. Follow along below, and we'll point you in the right direction for picking up a powerful Chromebook that won't blow your budget.
Before you buy anything, you have to first make sure that the device is compatible with the apps used in the classroom.
So make a note of the application required for the school year before making a purchase decision. Chromebooks run on Google's Chrome operating system, not Windows. So rather than Microsoft Office, they are optimized for Google Apps.
However, now that Google Play store is available for Chromebooks, you'll have access to a world of Android apps. This includes the Android version of Office which can be downloaded from the Google Play store. Alternatively, you can access Microsoft Office Online for free via the Chrome browser.
Most Chromebooks sport a minimalist design, but that doesn't mean that it isn't packed with exciting features. For example, if we take the on-screen keyboard (in the 2-in-1 with touchscreen for tablet model), it can recognize almost any scribble and provide you with a choice of text to input.
Regardless of whether they are new or refurbished Chromebooks, they are built to last.
They can withstand falls, scrapes, and similar punishment that can be dished out by kids of all ages.
However, make sure that it's MIL-STD-810G certified. This means that these machines passed the U.S. Military durability tests and are able to handle extreme temperatures, dust, humidity, sand, and rain. They are also spill-resistant to accommodate the clumsy students and teachers among us.
However, the bottom line is that it should at least meet the standard specs for a K-12 education Chromebook:
Intel Celeron processor
4GB of RAM
32GB – 64GB of storage
Differences between New Chromebooks and Refurbished Chromebooks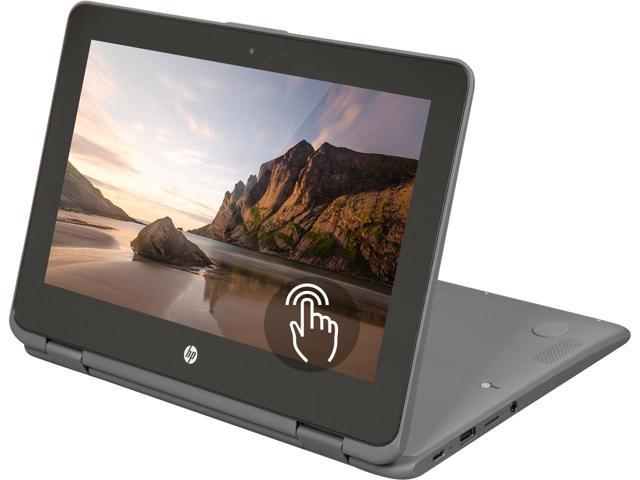 The primary difference between a brand-new Chromebook and refurbished one is the cost. The price of a refurbished device can save you around 30% of the total cost of a new one.
For example, new HP Chromebooks can start as low as $199.99 but typically average around $400.00 and more. On the other hand, refurbished Chromebooks average around $200.00 depending on the brand and model.
So if you're working with a tight budget, taking the refurbished route will help your school engage in 1:1 learning activities now, rather than later. As the hardware is supported by Google's six and a half year auto-update policy, you won't have to worry about refresh plans in the immediate future.
Most refurbished Chromebooks are typically two to three years old, so they still have more than three years of updates to go through.
Even if you have come to the end of auto-updates and don't have the budget to purchase new devices, the good news is that Chromebooks don't become obsolete. With a little bit of effort from your IT department, the lifespan of your Chromebooks can be extended for years to come.
So Which One Would be Better? Refurbished or New?
If your school district insists on Chromebooks for the longest lifespan, then buying new Chromebooks will be the best option. However, if the cost is a critical factor that can't be ignored, refurbished Chromebooks can offer the same benefits for both teachers and students alike.
Whenever budgets are an impeding factor, your technology team needs to consider how long each Chromebook will be used for and what apps they will be running in the future. Once all the different variables are taken into consideration, it'll be a good idea to ascertain if a refurbished device would suffice.
Whether you're in the market for new Chromebooks for the classroom, refurbished Chromebooks, or if you're not sure about which option is best for your students, don't hesitate to reach out to us at 2NDGEAR.
As an established provider of both new and refurbished Chromebooks, we have helped educators from around the country choose the best technology solutions that fit their budgets. We offer full White Glove Service along with leasing and financing options to schools to help them acquire what they need today, cost-effectively.
Have questions or need more info? Email us at info@2NDGEAR.com.